Our Post Bases are designed to fit with all Strut channels and double channels.
At the European Strut & Support Manufacturer we can also make customized post bases for square and rectangular tubes, or for any kind of profiles and beams.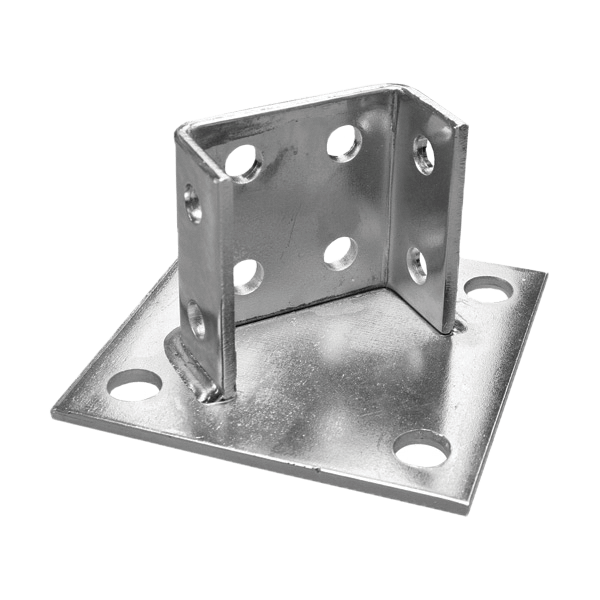 All Post Bases are manufactured from 4,5 or 6 mm thick carbon steel and are available in a variety of finishes.
As manufacturer's we can produce in different materials, thicknesses, lengths, with or without finish. When it comes to Post Base production we can design and produce what you need!
Post base 100x100x50; Single 41

4.1

Dimensions
Hole
Packing
Weight (kg/pcs)
Part no.1
Finish
W
L
H
T
BL
SG
HG
SS

100

100
50

4

6

Ø13

25

0.40

0.61

04.4001

04.6001

●

●

●

●

●

●

●

○
Post base 100x100x40; Single 41

4.2

Dimensions
Hole
Packing
Weight (kg/pcs)
Part no.1
Finish
W
L
H
T
BL
SG
HG
SS

100

100
40

4

6

Ø13

25

0.42

0.63

04.4002

04.6003

●

●

●

●

●

●

●

○
Post base 200x100x40; Double 41

4.3

Dimensions
Hole
Packing
Weight (kg/pcs)
Part no.1
Finish
W
L
H
T
BL
SG
HG
SS

200

100
40

4

6

Ø13

10

1.04

1.25

04.4003

04.6003

●

●

●

●

●

●

●

○
Post base 215x45x150; Single 41 - Open

4.4

Dimensions
Hole
Packing
Weight (kg/pcs)
Part no.1
Finish
W
L
H
T
BL
SG
HG
SS

150

215
45

4

6

Ø13

8

1.45

1.66

04.4004

04.6004

●

●

●

●

●

●

●

○
Post base 255x45x150; Single 41 - Open

4.5

Dimensions
Hole
Packing
Weight (kg/pcs)
Part no.1
Finish
W
L
H
T
BL
SG
HG
SS

150

255
45

4

6

Ø13

1

1.78

1.99

04.4005

04.6005

●

●

●

●

●

●

●

○
Post base 100x100x40; Single 41 - Corner

4.6

Dimensions
Hole
Packing
Weight (kg/pcs)
Part no.1
Finish
W
L
H
T
BL
SG
HG
SS

100

100
40

4

6

Ø13

4

0.62

04.4006

04.6006

●

●

●

●

●

●

●

○
Post base 150x150x100; Single 41

4.7

Dimensions
Hole
Packing
Weight (kg/pcs)
Part no.1
Finish
W
L
H
T
BL
SG
HG
SS

150

150
100

4

6

Ø13

8

1.45

1.66

04.4007

04.6007

●

●

●

●

●

●

●

○
Post base 150x150x100; Double 41 - Angle 45

4.8

Dimensions
Hole
Packing
Weight (kg/pcs)
Part no.1
Finish
W
L
H
T
BL
SG
HG
SS

150

150
100

4

6

Ø13

1

1.58

1.79

04.4008

04.6008

●

●

●

●

●

●

●

○
Post base 150x150x100; Double 41

4.9

Dimensions
Hole
Packing
Weight (kg/pcs)
Part no.1
Finish
W
L
H
T
BL
SG
HG
SS

150

150
100

4

6

Ø13

8

1.65

1.86

04.4009

04.6009

●

●

●

●

●

●

●

○
Post base Low 250x55x105; Single 41

4.11

Dimensions
Hole
Packing
Weight (kg/pcs)
Part no.1
Finish
W
L
H
T
BL
SG
HG
SS

250

55
105

4

6

Ø13

8

1.67

1.88

04.4011

04.6011

●

●

●

●

●

●

●

○
Post base Rectangular 80x160x100; Single 41

4.12

Dimensions
Hole
Packing
Weight (kg/pcs)
Part no.1
Finish
W
L
H
T
BL
SG
HG
SS

80

160
100

4

6

Ø13

1

0.99

1.20

04.4012

04.6012

●

●

●

●

●

●

●

○