This section offers a wide range of fittings and accessories to complete our strut channel system.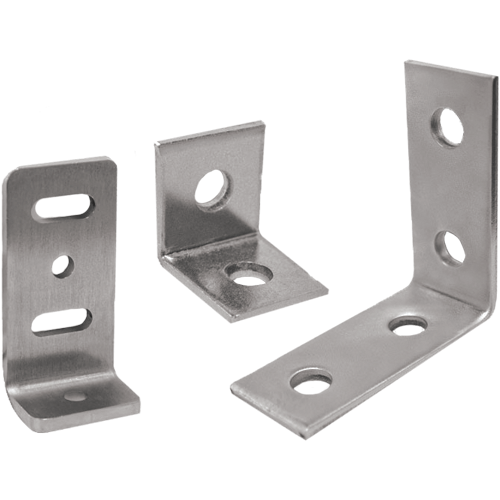 Fittings brackets are suitable for the construction of the channel systems. The connectors are offered as a flat plate or angle fittings with formed holes or slot for connecting the mounting channel.
At the European Strut & Support Manufacturer, the fittings can be offered in 4, 5, or 6 mm and are available in a variety of finishes as well as stainless steel.
All of our Angle Plate Fixing Bracket products can be produced in different materials, thicknesses, lengths, with or without a finish. We can design and produce what you need!
Angle fixing 50/48-90 - 1-1 hole

6.1

Dimensions

Nr. of holes

Packing
Weight (kg/pcs)
Part no.1
Finish
W
L
H
T
Hole
BL
SG
HG
SS

40

50
48

4

6

Ø13

2

10

0.10

0.15

06.4001

06.6001

●

●

●

●

●

●

●

●
Angle fixing 58/42-90 - 1-1 hole

6.2

Dimensions

Nr. of holes

Packing
Weight (kg/pcs)
Part no.1
Finish
W
L
H
T
Hole
BL
SG
HG
SS

40

58
42

4

6

Ø13

2

10

0.10

0.15

06.4002

06.6002

●

●

●

●

●

●

●

●
Angle fixing 103/42-90 - 1-2 hole

6.3

Dimensions

Nr. of holes

Packing
Weight (kg/pcs)
Part no.1
Finish
W
L
H
T
Hole
BL
SG
HG
SS

40

103
42

4

6

Ø13

3

10

0.16

0.23

06.4003

06.6003

●

●

●

●

●

●

●

●
Angle fixing 99/47-90 - 1-2 hole

6.4

Dimensions

Nr. of holes

Packing
Weight (kg/pcs)
Part no.1
Finish
W
L
H
T
Hole
BL
SG
HG
SS

40

99
47

4

6

Ø13

3

10

0.16

0.23

06.4004

06.6004

●

●

●

●

●

●

●

●
Angle fixing 89/57-90 - 1-2 hole

6.5

Dimensions

Nr. of holes

Packing
Weight (kg/pcs)
Part no.1
Finish
W
L
H
T
Hole
BL
SG
HG
SS

40

89
57

4

6

Ø13

3

10

0.16

0.24

06.4005

06.6005

●

●

●

●

●

●

●

●
Angle fixing 102/86-90 - 2-2 hole

6.6

Dimensions

Nr. of holes

Packing
Weight (kg/pcs)
Part no.1
Finish
W
L
H
T
Hole
BL
SG
HG
SS

40

102
86

4

6

Ø13

4

10

0.16

0.32

06.4006

06.6006

●

●

●

●

●

●

●

●
Angle fixing 132/56-90 - 1-3 hole

6.7

Dimensions

Nr. of holes

Packing
Weight (kg/pcs)
Part no.1
Finish
W
L
H
T
Hole
BL
SG
HG
SS

40

132
56

4

6

Ø13

4

10

0.22

0.32

06.4007

06.6007

●

●

●

●

●

●

●

●
Angle fixing 106/89-90 - 2-2 hole

6.8

Dimensions

Nr. of holes

Packing
Weight (kg/pcs)
Part no.1
Finish
W
L
H
T
Hole
BL
SG
HG
SS

43

106
89

4

6

Ø13

4

1

0.29

0.42

06.4008

06.6008

●

●

●

●

●

●

●

●
Angle fixing L 106/89-90 - 2-2 hole

6.9

Dimensions

Nr. of holes

Packing
Weight (kg/pcs)
Part no.1
Finish
W
L
H
T
Hole
BL
SG
HG
SS

43

106
89

4

6

Ø13

4

1

0.29

0.42

06.4009

06.6009

●

●

●

●

●

●

●

●
Angle fixing 105/90-90 - 2-2 hole

6.10

Dimensions

Nr. of holes

Packing
Weight (kg/pcs)
Part no.1
Finish
W
L
H
T
Hole
BL
SG
HG
SS

90

105
45

4

6

Ø13

4

1

0.31

0.45

06.4010

06.6010

●

●

●

●

●

●

●

●
Angle fixing 100/136-90 - 2-2 hole

6.11

Dimensions

Nr. of holes

Packing
Weight (kg/pcs)
Part no.1
Finish
W
L
H
T
Hole
BL
SG
HG
SS

100

136
45

4

6

Ø13

4

1

0.40

0.57

06.4011

06.6011

●

●

●

●

●

●

●

●
Angle fixing T-M 52/136-90 - 3-1 hole

6.12

Dimensions

Nr. of holes

Packing
Weight (kg/pcs)
Part no.1
Finish
W
L
H
T
Hole
BL
SG
HG
SS

45

136
52

4

6

Ø13

4

1

0.24

0.34

06.4012

06.6012

●

●

●

●

●

●

●

●
Angle fixing T-R 50/90-90 - 3-1 hole

6.13

Dimensions

Nr. of holes

Packing
Weight (kg/pcs)
Part no.1
Finish
W
L
H
T
Hole
BL
SG
HG
SS

50

95
90

4

6

Ø13

4

5

0.22

0.32

06.4013

06.6013

●

●

●

●

●

●

●

●
Angle fixing T-L 50/90-90 - 3-1 hole

6.14

Dimensions

Nr. of holes

Packing
Weight (kg/pcs)
Part no.1
Finish
W
L
H
T
Hole
BL
SG
HG
SS

50

95
90

4

6

Ø13

4

5

0.24

0.25

06.4014

06.6014

●

●

●

●

●

●

●

●
Angle fixing G-R 50/90-90 - 1-2 hole

6.15

Dimensions

Nr. of holes

Packing
Weight (kg/pcs)
Part no.1
Finish
W
L
H
T
Hole
BL
SG
HG
SS

45

90
50

4

6

Ø13

3

5

0.17

0.25

06.4015

06.6015

●

●

●

●

●

●

●

●
Angle fixing G-L 50/50-90 - 1-2 hole

6.16

Dimensions

Nr. of holes

Packing
Weight (kg/pcs)
Part no.1
Finish
W
L
H
T
Hole
BL
SG
HG
SS

45

90
50

4

6

Ø13

3

5

0.17

0.25

06.4016

06.6016

●

●

●

●

●

●

●

●
Angle fixing 53/78-45 - 1-1 hole

6.17

Dimensions

Nr. of holes

Packing
Weight (kg/pcs)
Part no.1
Finish
W
L
H
T
Hole
BL
SG
HG
SS

40

78
53

4

6

Ø13

2

5

0.17

0.24

06.4017

06.6017

●

●

●

●

●

●

●

●
Angle fixing 87/87-45 - 2-2 hole

6.18

Dimensions

Nr. of holes

Packing
Weight (kg/pcs)
Part no.1
Finish
W
L
H
T
Hole
BL
SG
HG
SS

50

87
87

4

6

Ø13

4

5

0.21

0.32

06.4018

06.6018

●

●

●

●

●

●

●

●
Angle brace 300/300-45 - 1-1 hole

6.19

Dimensions

Nr. of holes

Packing
Weight (kg/pcs)
Part no.1
Finish
W
L
H
T
Hole
BL
SG
HG
SS

40

368
368

4

6

Ø13

2

1

0.51

0.73

06.4019

06.6019

●

●

●

●

●

●

●

●
Angle brace 200/200-45 - 1-1 hole

6.20

Dimensions

Nr. of holes

Packing
Weight (kg/pcs)
Part no.1
Finish
W
L
H
T
Hole
BL
SG
HG
SS

40

218
218

4

6

Ø13

2

1

0.38

0.55

06.4020

06.6020

●

●

●

●

●

●

●

●
Angle brace 500/500-45 - 1-1 holes

6.21

Dimensions

Nr. of holes

Packing
Weight (kg/pcs)
Part no.1
Finish
W
L
H
T
Hole
BL
SG
HG
SS

40

651
651

4

6

Ø13

2

1

0.98

1.4

06.4021

06.6021

●

●

●

●

●

●

●

●